To help you set appropriate selling prices, DSers now supports you to import AliExpress product cost based on the destination country.
Import product cost
In case you want to sell products to countries other than the United States, DSers has developed a new feature to help you import AliExpress product cost for your desired country in DSers to display product cost more accurately.
To use the new feature, be sure to install the latest version of DSers Chrome Extension before importing AliExpress products.
Step1: Go to AliExpress to look for your wanted product and access the "ship to" drop-down list as shown below.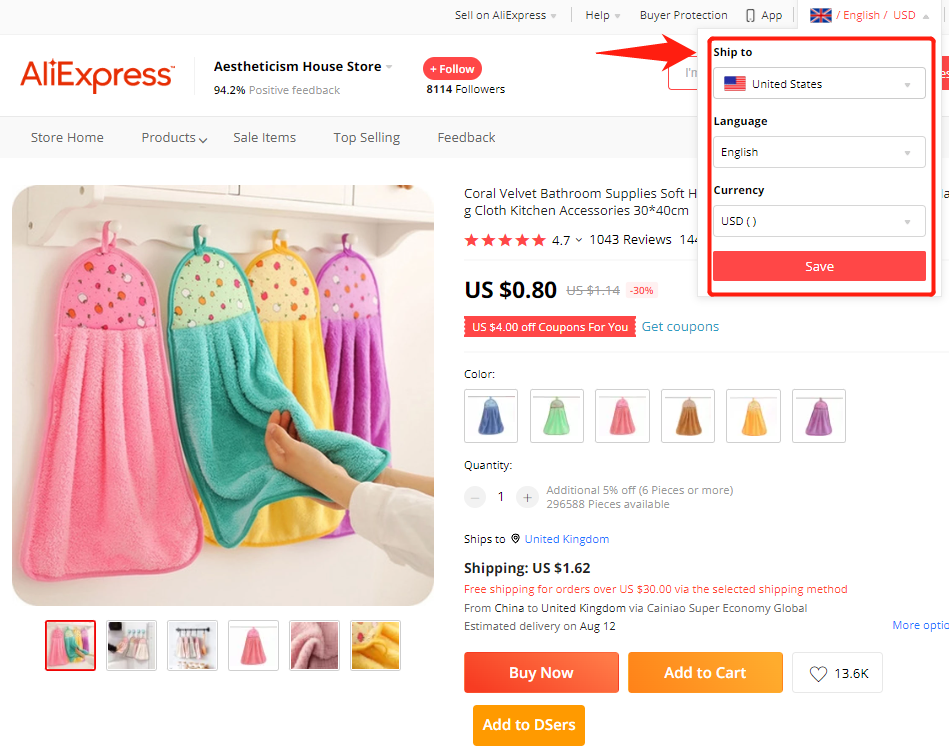 Step2: Select your desired destination country and click on Save.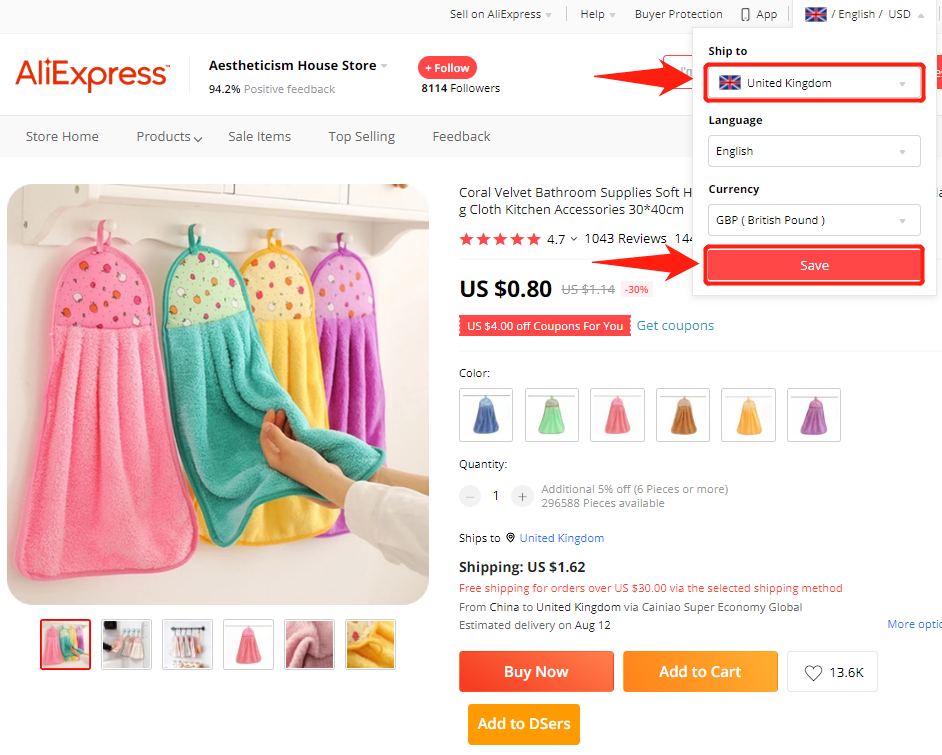 Step3: Import the AliExpress product to DSers by clicking the Add to DSers button.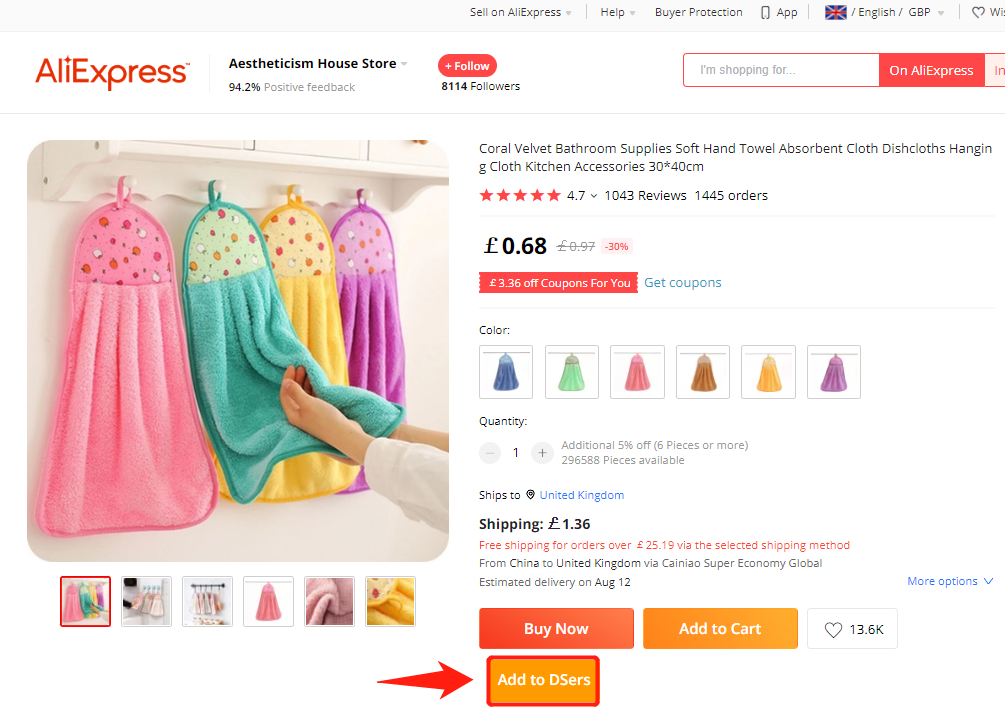 Step4: Access DSers-Import list page to check your product cost for your selected destination country. Once you push or publish the product to your store, you can also check it in DSers-My products page.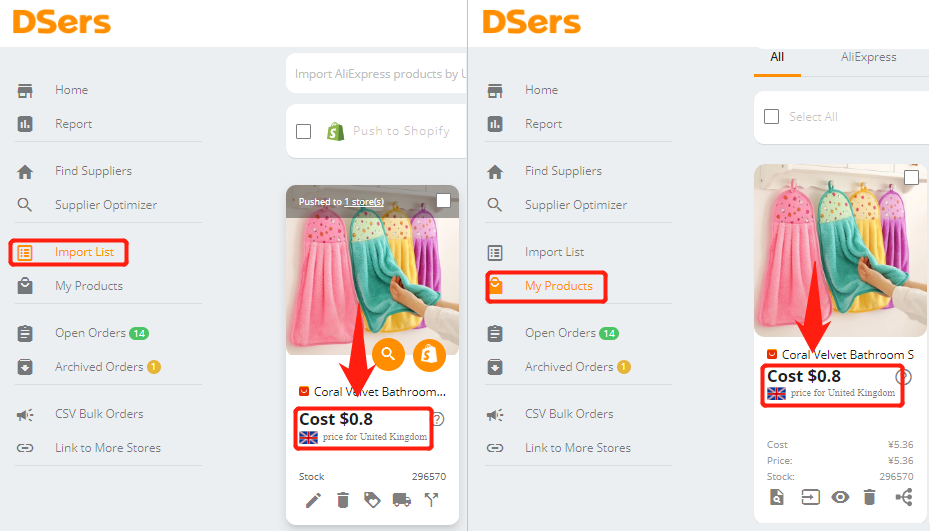 📕 NOTE: DSers displays product cost in USD corresponding to your selected shipping destination only when you use the DSers Chrome Extension to import AliExpress products. For imported products using other channels, DSers will display product cost in USD by setting the United States as the shipping destination.
How does the feature work in DSers
The product cost value will be applied to SKU Cost, Price value and Compare price value in both Import List menu and My Products menu.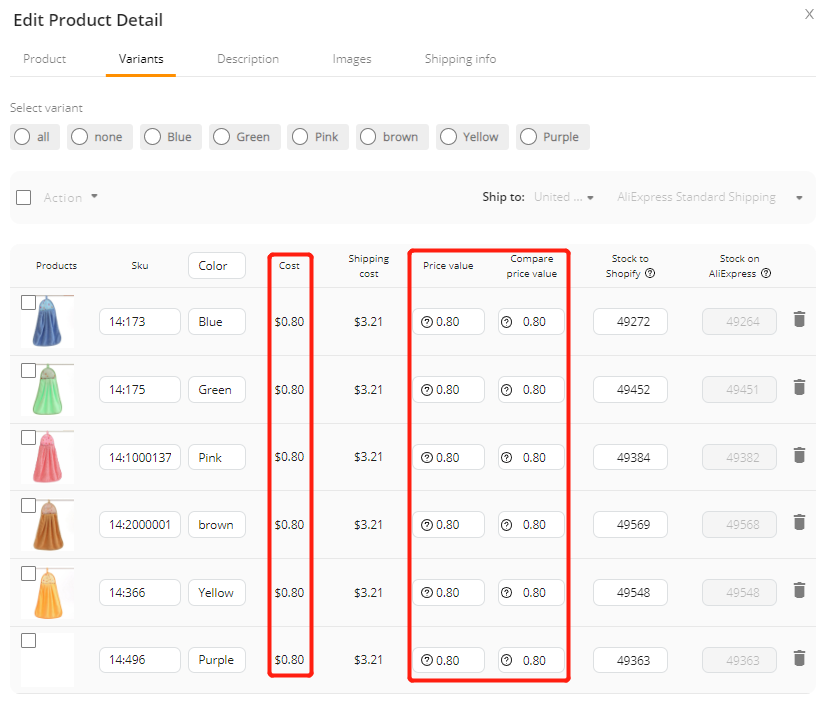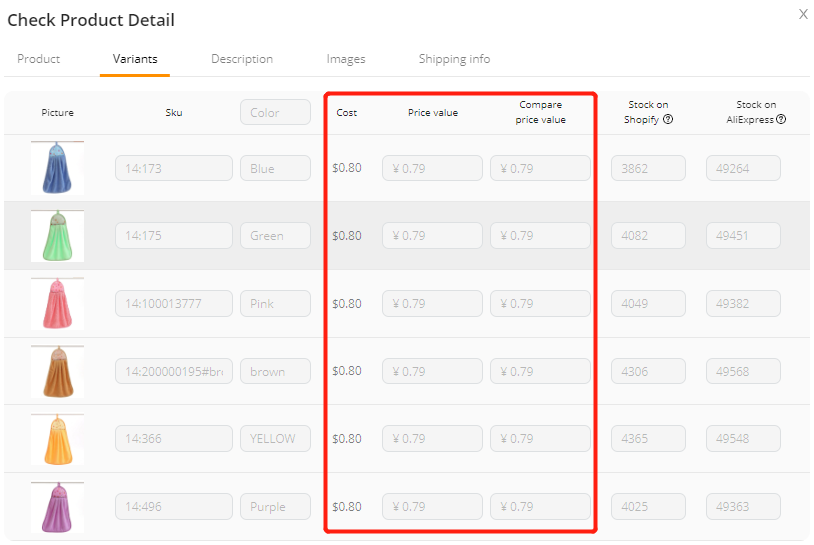 In addition, the feature will affect Cost and Product cost displayed on the Open Orders page. But please note that the real product cost you are charged depends on how much you pay to AliExpress supplier when you place orders.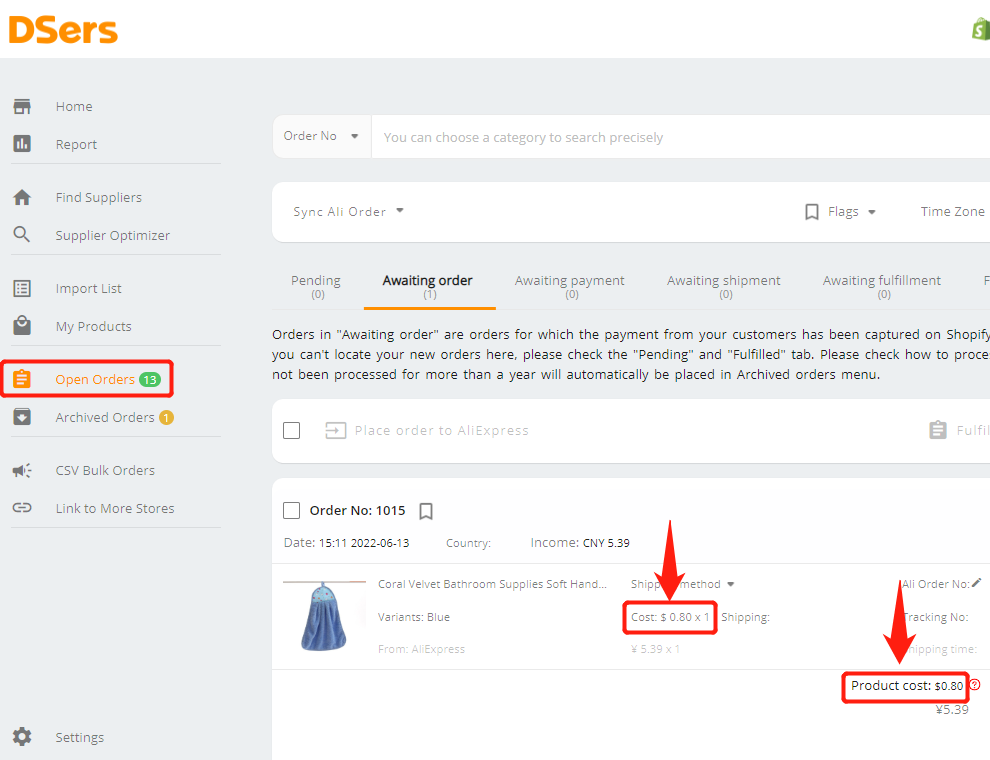 It will also affect some features according to your Settings in DSers.
Check shipping cost
Once you have imported products from AliExpress, you need to price your products. To help you better set selling price for your products, DSers allows you to edit "Ship from", "Ship to" and "Shipping method" to figure out shipping cost and display it in DSers.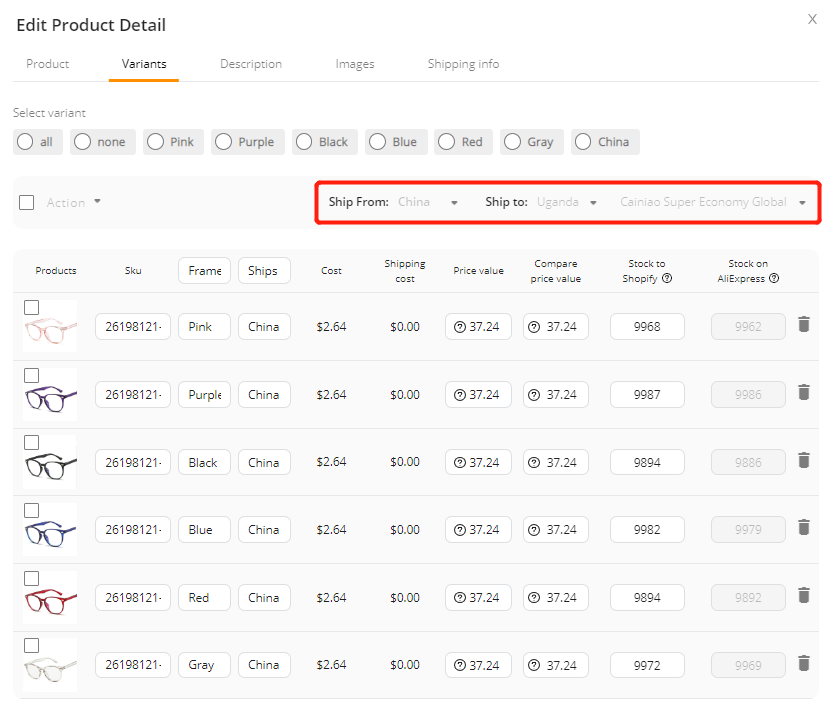 Ship from:From the available countries of origin drop-down list, you can select your desired country that the product is shipped from.
Please note that the default country of origin is China, if not available, it will be replaced by the first option in the list.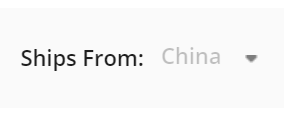 📕 NOTE: The "ship from" section will not show in DSers If your imported AliExpress product does not support it.
Ship to: From the available countries of destination drop-down list, you can choose the country that you want the product to ship to.
Please note that the default option is the same as the "Ship to" country you selected when you imported the AliExpress products by using the DSers Chrome Extension.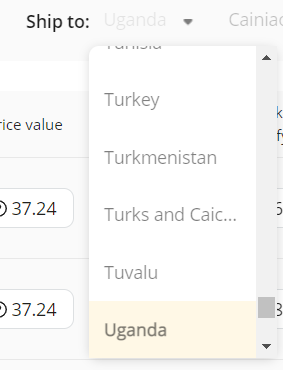 Shipping method: The shipping method is set as AliExpress Standard Shipping by default, or the first option if the default shipping method is not available. You can reset the shipping method as required.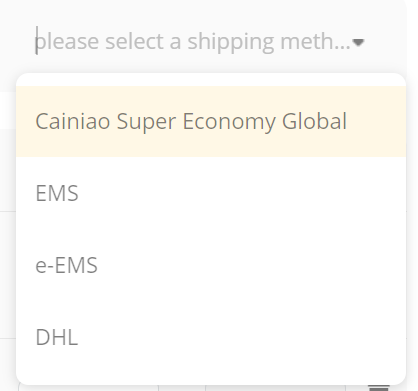 After you set up those three settings, you can check the corresponding shipping cost in USD as shown below.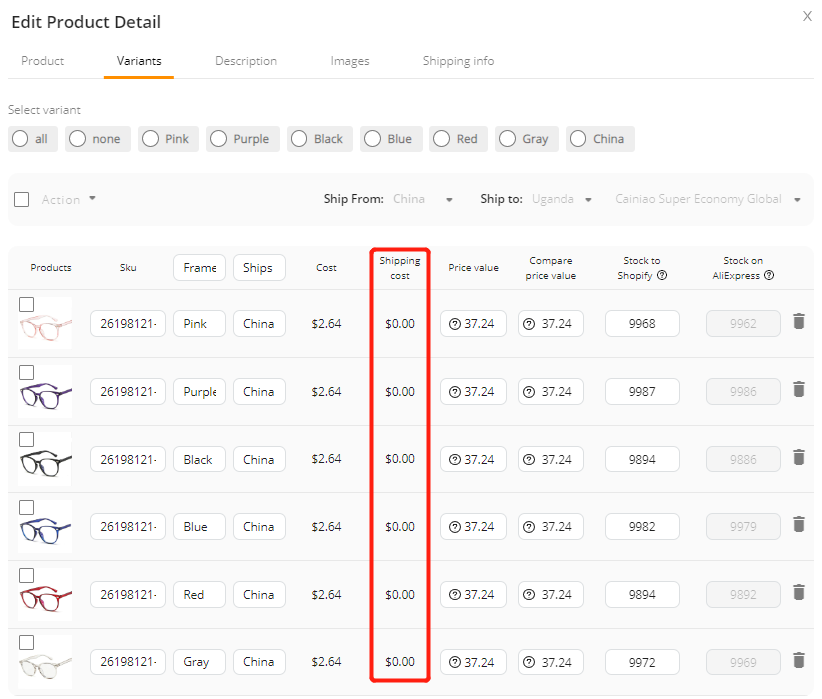 📕 NOTE: The shipping cost is only for viewing and cannot be modified, which means it will not affect other features in DSers.