It's possible that your supplier has a warehouse that is based in countries other than China. In this case, they can deliver the products to your customers faster from these countries.
You can use the Advanced Mapping on DSers to take advantage of this kind of situation and make your customers more satisfied by having your suppliers ship the orders faster.
How to turn on the Advanced Mapping feature
Sign in to your DSers account.
Click My Products in the side menu.
Click the button on the product card to reach the Mapping Page.
Click Advanced tab and turn on the status button .
Click CONFIRM to activate the Advanced Mapping.
How to set variants shipping for specific countries
Click the +Import supplier & Select variant button under the Supplier & Variant column.
Paste the URL of your AliExpress product in the Search Box and press ↵Enter key to add a product.
Choose a Ships From option that is based on your order destination.
Click SUBMIT to select a variant.
Follow the step-by-step instruction with In-app screenshots
Once you have done variant mapping for your first shipping destination. You can continue to map the same variant with supplier shipping from another destination country.
Take this variant as an example, you select the United States as the second shipping destination.
Step 1. Click +Import supplier & Select variant to map this shipping destination.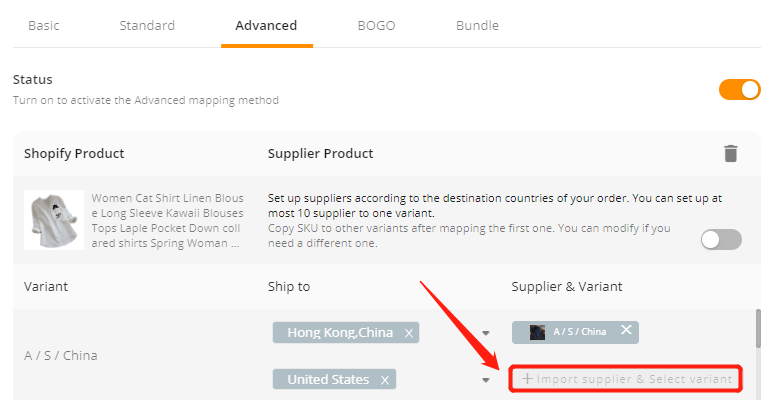 Step 2. Select United States for the Ships From, and keep the corresponding color and size of the variant. Then click SUBMIT to save.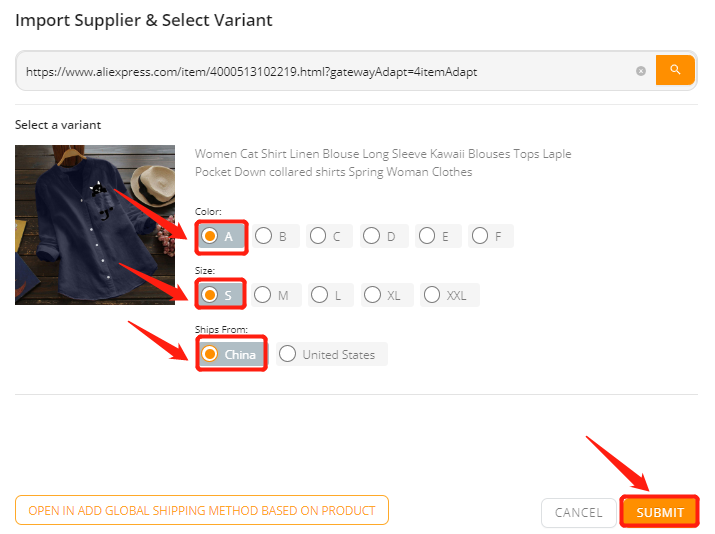 With this mapping, orders to other countries will be sent from China.
Orders to United States will be sent from United States.
This way your customers can receive their products faster. The shipping cost can be lower so that you can have a higher profit margin.
You can activate the following button to apply the mapping method for the other variants after mapping the first one.


The mapping information will be repeated in the other variants.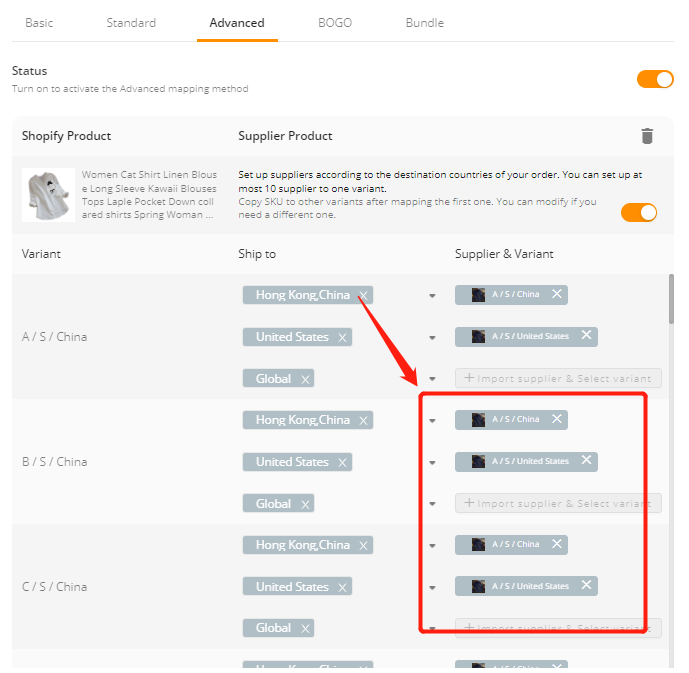 Please note that you need to modify the repeated mapping manually to keep the AliExpress product variants consistent with your product variants.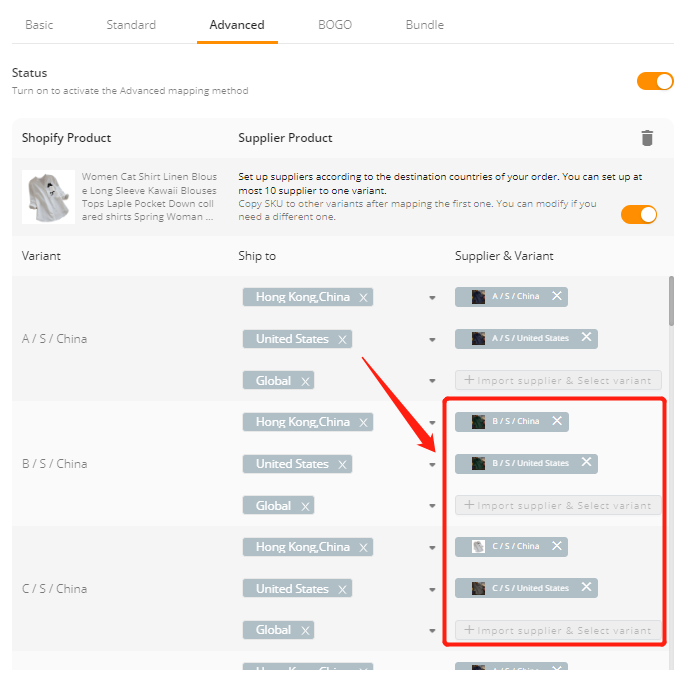 You can still remap the suppliers for them by clicking Import supplier & Select variant.
Once you are done, don't forget to SAVE!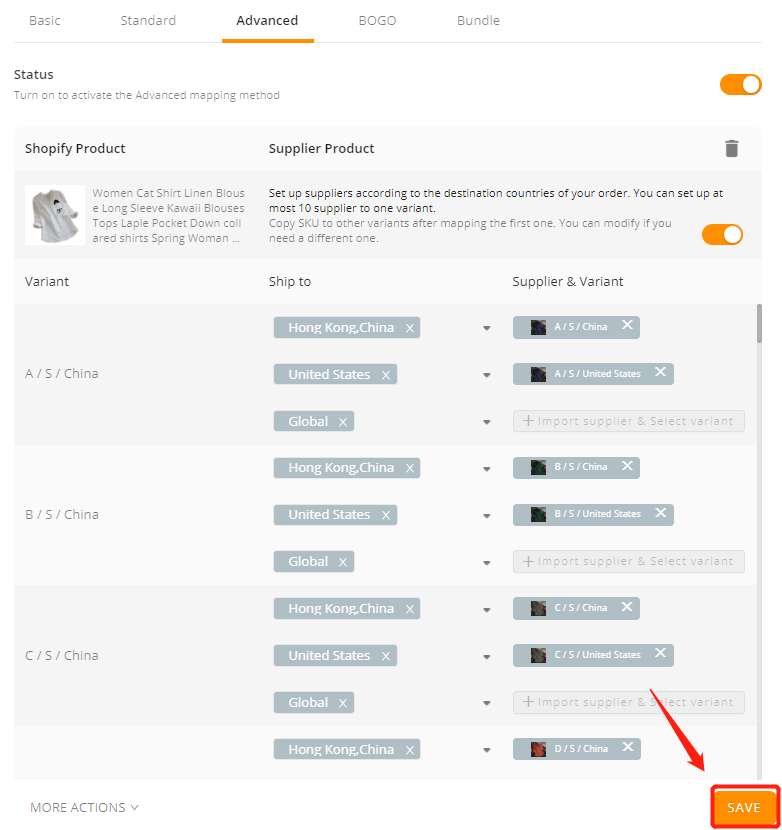 A notification will appear after you successfully saved it.

Your products will now be sent from different locations.
Because the products are shipping from different places, the cost varies. So the cost will not be displayed on the product card.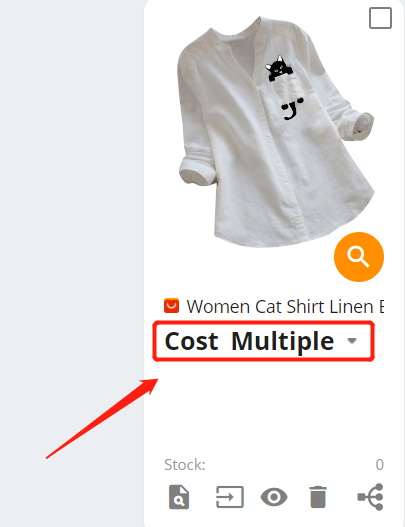 Another way you can use Advanced Mapping is to set up multiple suppliers for a variant to ensure maximum profit margin by choosing the cheapest supplier corresponding to different countries.
For each variant, you can select up to 10 different suppliers that ship to different countries. Therefore, you can be creative here to use Advanced Mapping to personalize your offer the way you want.