Orders that are (partially) Canceled / (partially) Refunded on AliExpress and Shopify will be moved to this tab.
You can bulk order the Canceled orders from AliExpress, but not the ones from Shopify.

Here are some operations you can do to your Canceled orders.
Place orders (in bulk)
DSers allows you to place orders to AliExpress separately or in bulk.
Fulfill your orders manually
You may have orders that you cannot process again on DSers because they were canceled on Shopify. In this case, you can fulfill your orders manually.

Edit Customer Detail
You are able to edit Customer Detail when necessary.

Edit mapping
You need to map the items not mapped to any suppliers in your orders with AliExpress suppliers before you can place orders again.

📕 NOTE: The mapping will be applied to all the orders for the product that have not been placed to AliExpress.
Edit Action
You can leave a specific message to your AliExpress suppliers or edit an order by accessing the Action menu.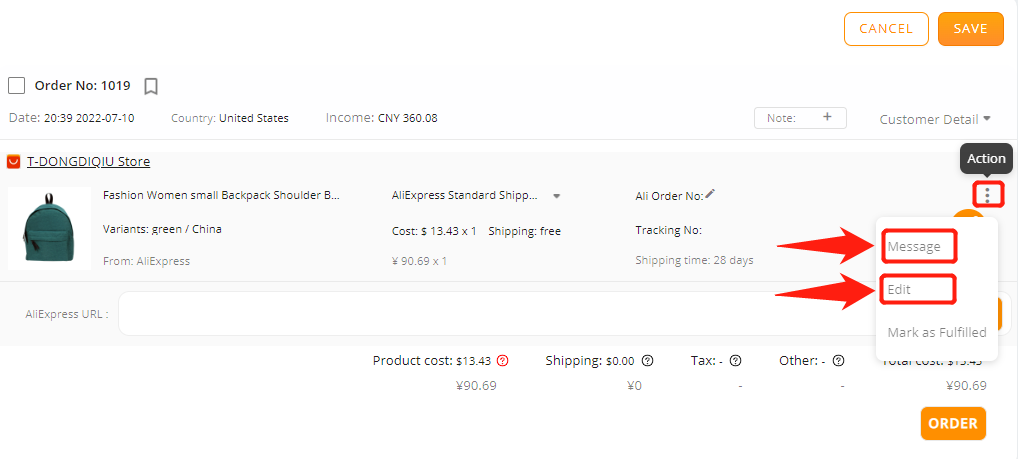 Choose the shipping method
You can select a shipping method to verify there is a shipping method applied to your order.

Edit AliExpress Order Number
You can edit the Ali Order Number by clicking on the Ali Order No. as below.

Add notes
To add notes to your orders, click on Note here.