Create Bundles of products
With DSers, you can now easily create your own bundles!
Bundles allow you to mix products from different suppliers and change the quantity you want to sell at the same time.
You will have the liberty the make the best offers to your customers with our Bundles mapping!
Here's how you can do it:
Bundle
Creating and mapping bundles to place to AliExpress with DSers is very easy.
You can have up to 5 products per bundle created, coming from 5 different suppliers.
For this example, we are going tocreate a bundle of 3 LED Candles with a wooden platter. The 3 Candlesare from the same supplier (different variants of the same products) and the wooden platter is from another supplier.
First, go on Shopify to create a new product

Give a title to your product

Note: you can also add a description, add more variants, etc... like any other product And Save
Go to DSers - My Product and click the Import Shopify Products.

Search for your newly created product and click the icon on the right to import it to DSers

The icon will turn to a green tick once the product is successfully imported

The product will appear on your My Products page, then click on the Mapping Page button on the product card.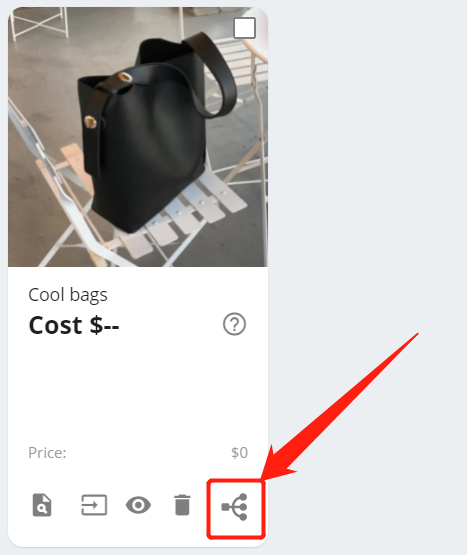 On the Supplier Management page, access the Bundle tab.

Click on the Status button to activate the Bundle mapping.

In the pop-up notification, click OK to confirm.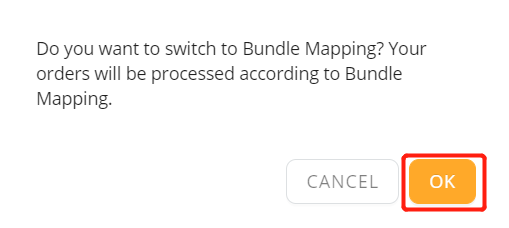 To map the variation you want to sell, click on Import supplier & Select variant.

Paste the AliExpress link of the product you want to add

Select the variant of the product you want to sell and click submit.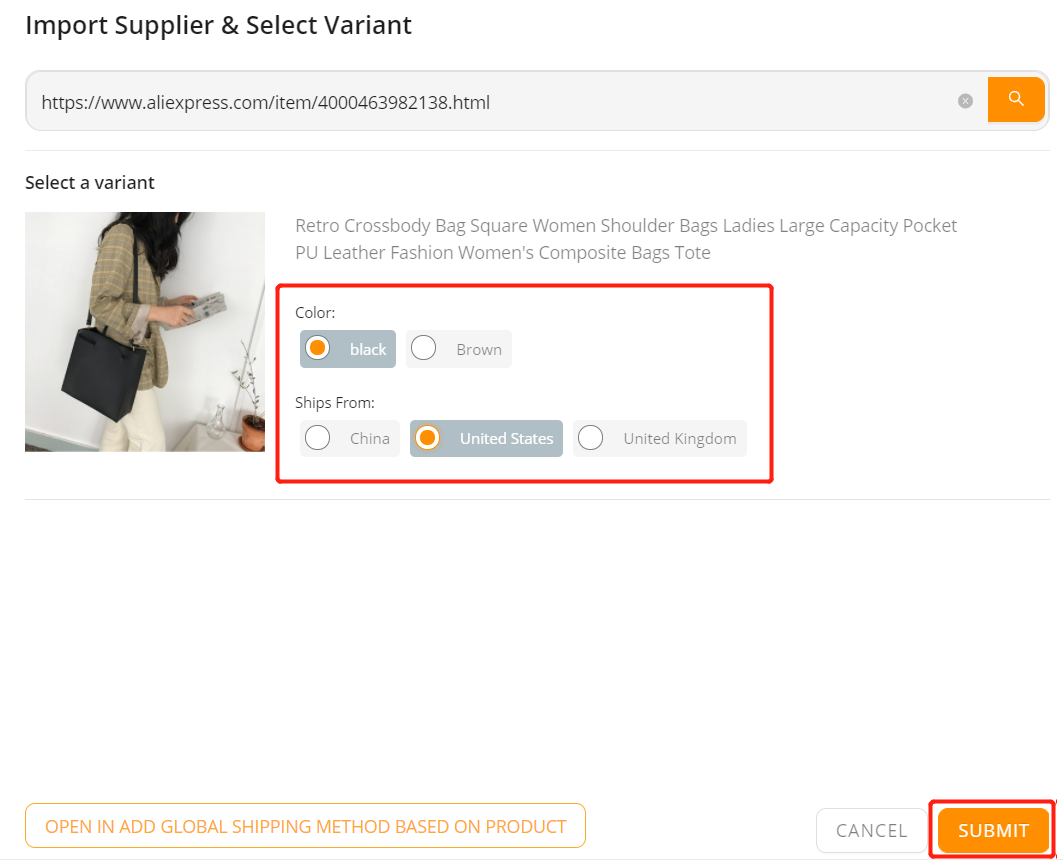 The name of the selected variant now appear.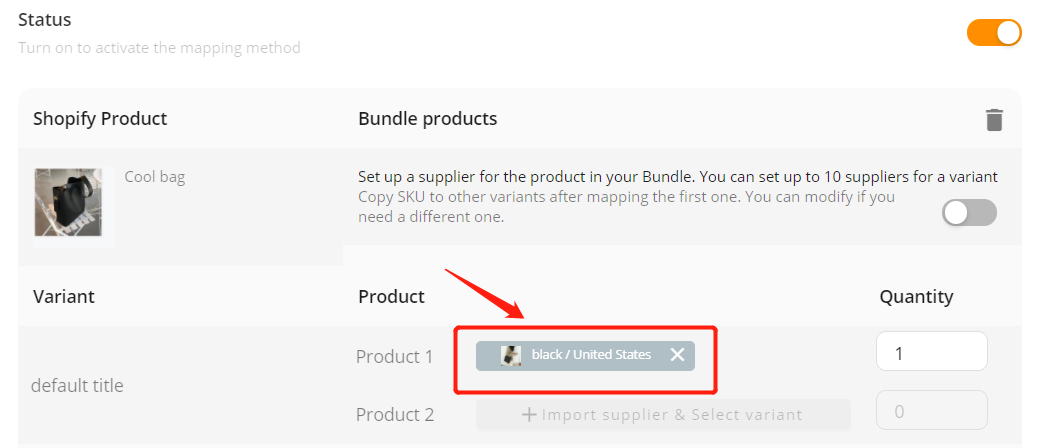 Repeat this process to add a second product, this time we will also change the quantity to sell 2 of this product

You can also add product from other supplier in the same way.
Just replace the link with the one of another supplier in the import field.
Select the variant you want to add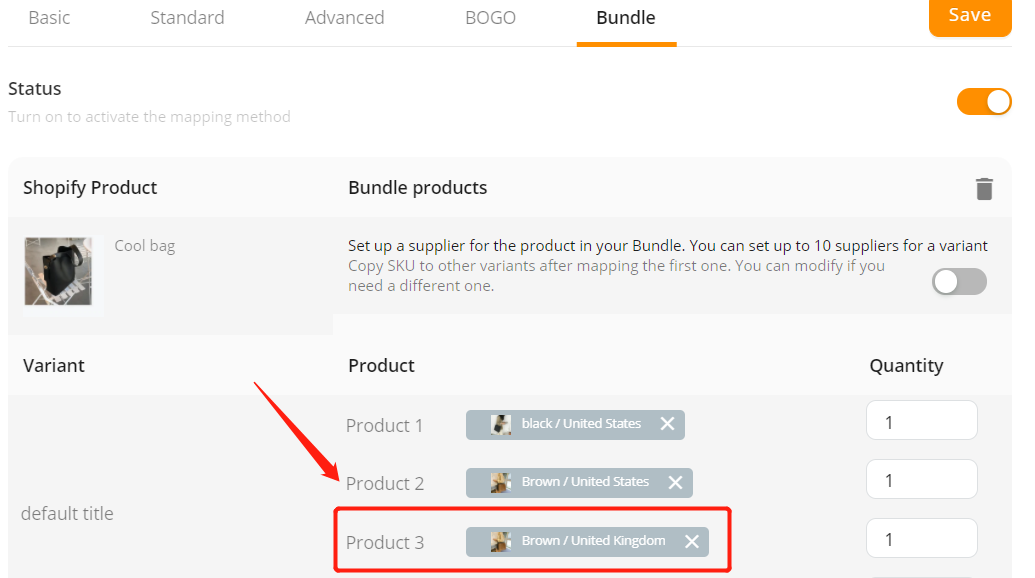 You now have a bundle of 4 products made up of products from 2 different supplier:
-1 black bag (supplier A)
-2 brown bags (supplier A)
-1 yellow purse (supplier B)
Don't forget to Save your Bundle!
And you're done!
You are now able to sell 3 bags with a purse in one product!
There are many kinds of bundles you can create, you can find some ideas below.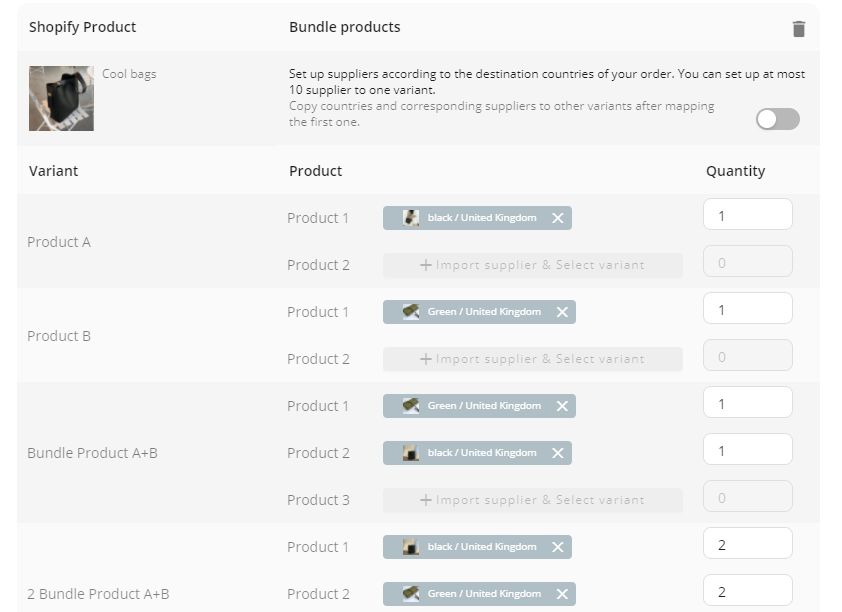 Example of Bundle order
The orders for Bundles will appear slightly different compared to other orders, here is an example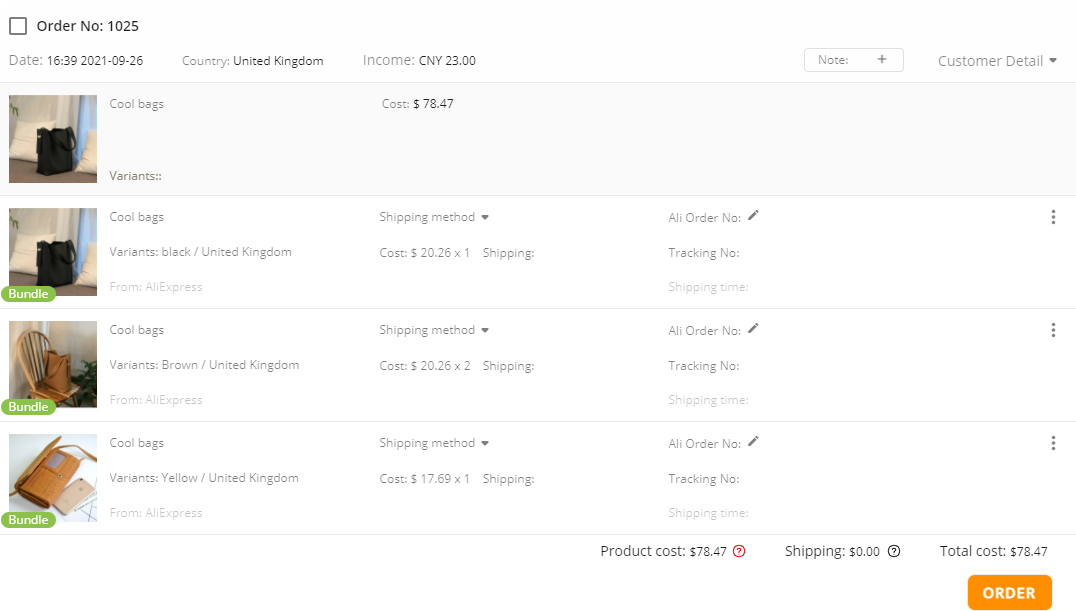 You can see the main product on the top, and the rest of the bundle under it!