Oberlo migration-Pricing Rule
The article is based on the premise that you set oberlo as 
data reference
. If you choose other options for conflict handling, there may be different situations.
Contact us
anytime if you have any questions.
Pricing rule feature helps to manage your profit margin by automatically applying a formula to your supplier product cost when you publish products from DSers to Shopify. With the migration tool, it is easy to migrate your pricing rule settings from Oberlo to your DSers account.
Let's see what will happen to the feature after migration and figure out the differences of the feature between the two apps.
How Does DSers Migrate the Pricing Rule from Oberlo
DSers will migrate your store currency and set it well in DSers to make sure that you can apply pricing templates correctly after migration. The Basic pricing rule in Oberlo will be migrated to DSers' Basic pricing rule, and the Advanced pricing rule in Oberlo will be migrated to DSers' Standard pricing rule.
Migrate Basic Pricing Rule in Oberlo
Let's see some examples. If you use CNY as your Shopify store currency, the current exchange rate is 1USD=6.5CNY. After migration, the numbers in the DSers pricing template will be:

Migrate Advanced Pricing Rule in Oberlo
The number in the formula in this pricing rule will be migrated to DSers after being divided by the current exchange rate as in the example below.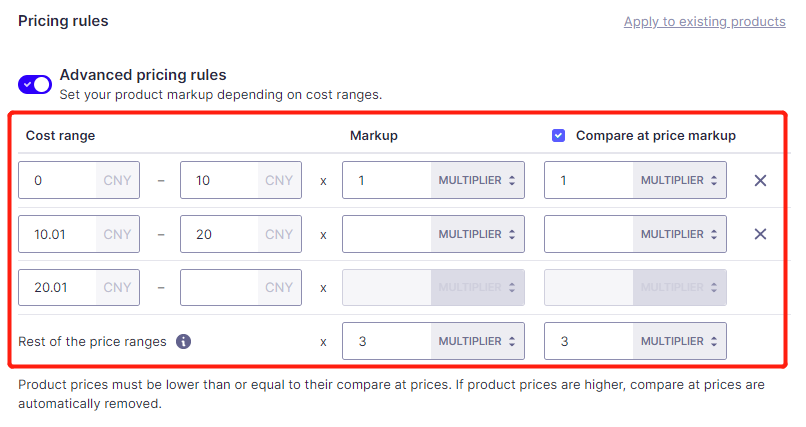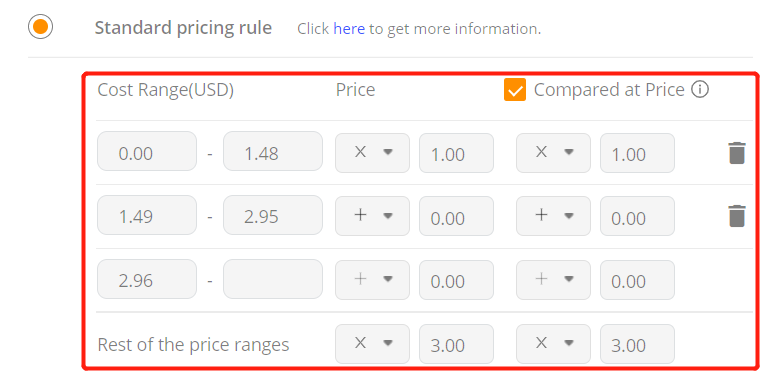 Please note that if you set up the Pricing rule on Oberlo but did not activate it, DSers will not migrate the settings. Only the pricing rule activated in Oberlo will be migrated.

You may find that the values set up in the Pricing Rule are different from what they are on Oberlo. It is caused by the currency. Since USD is the basic currency used on DSers, while store currency is applied as default on Oberlo, DSers needs to convert the value of Oberlo to USD first and then show it on DSers.
Compare Pricing Rule Feature in Oberlo and DSers
The Pricing rule feature in Oberlo and DSers is easy to find.

However, it's quite different to apply the pricing rules in Oberlo and DSers.
More Information to Know about the Feature
DSers provides 3 kinds of Pricing rule features. You can get detailed information below: