Set tracking for your orders
It is always important to keep your customers updated about the whereabouts of their orders.
Because of the inherent limitation of WooCommerce, you may need to install extra plugin to track your orders correctly from AliExpress to DSers to your WooCommerce store.
Currently, there are two ways to do it: install DSers on WordPress or install Shipment Tracking extension (a third-party extension).
In the following guide, we will demonstrate the ins and outs of those two different ways.
DSers On WordPress (Free)
You can install DSers on WordPress for free to send tracking information in emails to your customers. Please note DSers will update the tracking numberin order notes after the order is fulfilled.
Installation
Before anything, please make sure you already installed DSers.
Send tracking email with DSers
Go to DSers – Setting - Email and Turn on the feature.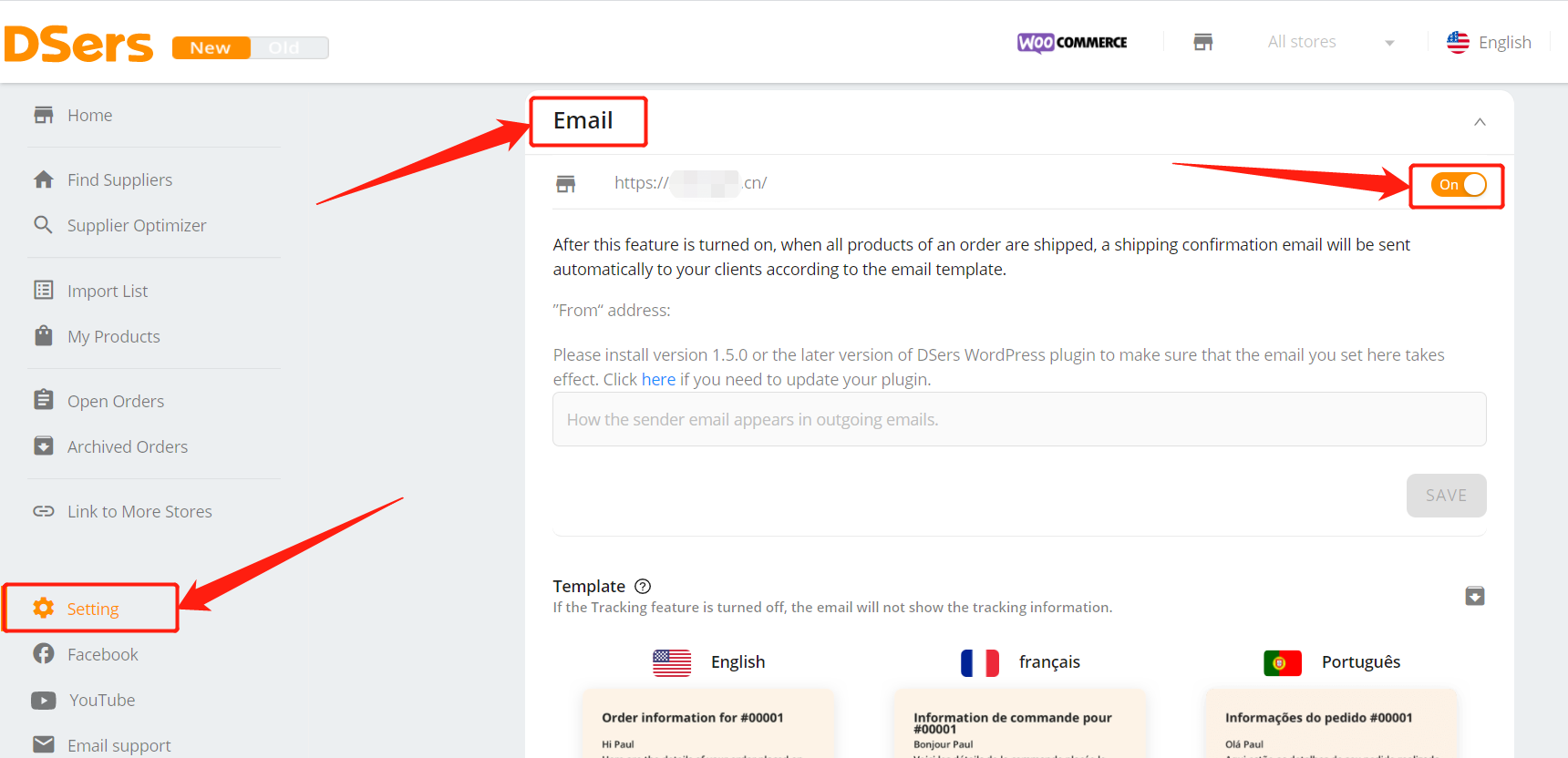 After this feature is turned on, when all products of an order are shipped, a shipping confirmation email will be sent automatically to your clients according to the email template.
In the "From" address field, you can set the default address that appears in outgoing emails.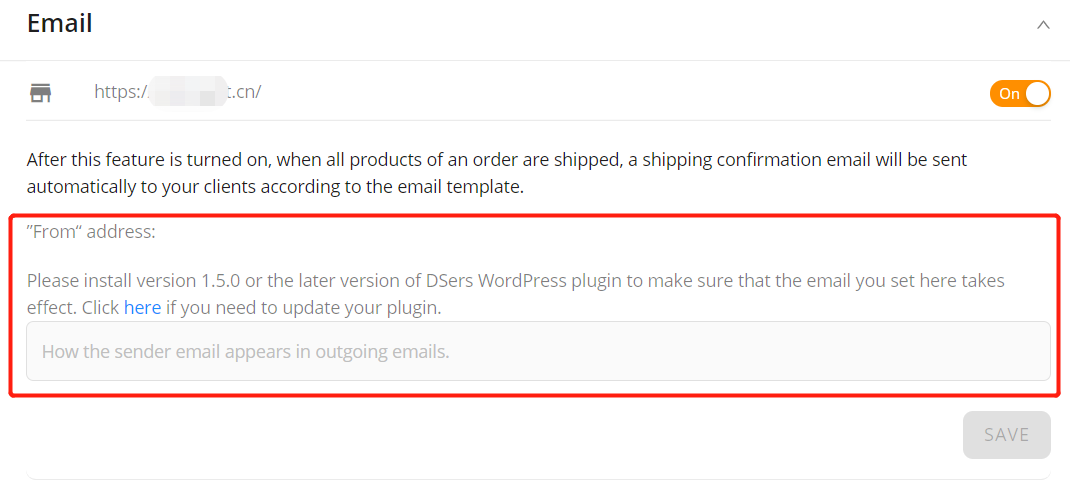 The next step for you is to set up the tracking information in the email.
Set up tracking information
Go to DSers – Setting – Email – "Tracking Information".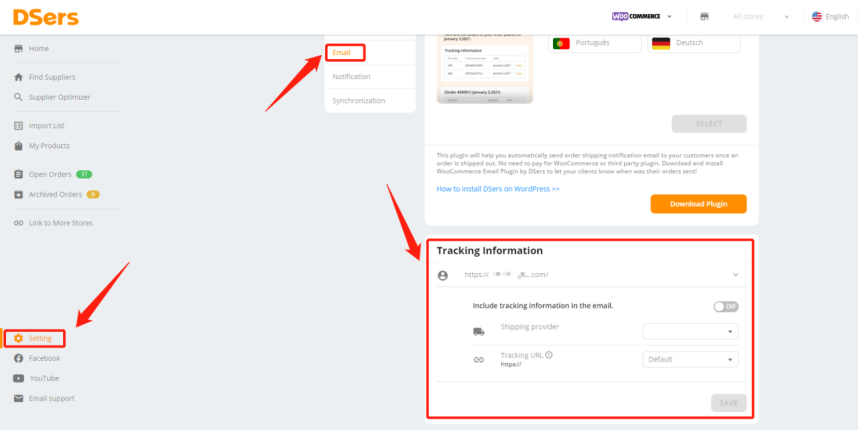 Choose the store you want the rule be applied and set the tracking information first.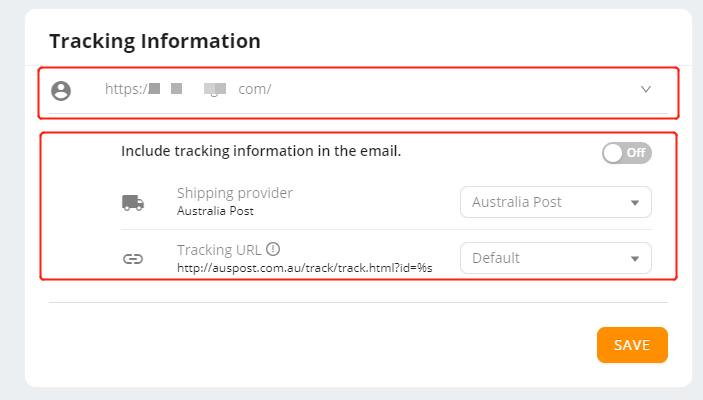 You can select the shipping provider here. We grouped those shipping providers based on different countries.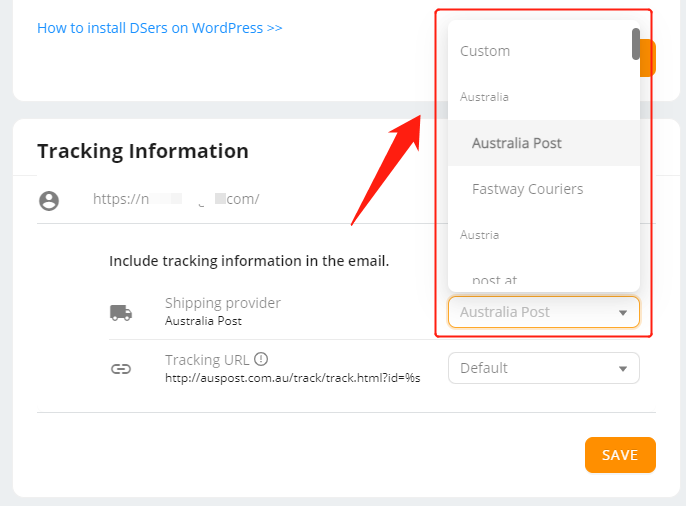 Let's take Australia Post as an example.
After you selected Australia Post as the shipping provider, we will use the official tracking URL of the provider by default.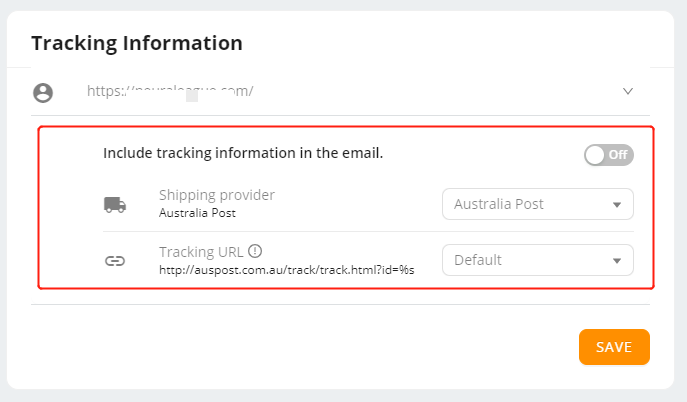 You can always change the tracking URL by accessing the drop-down list here.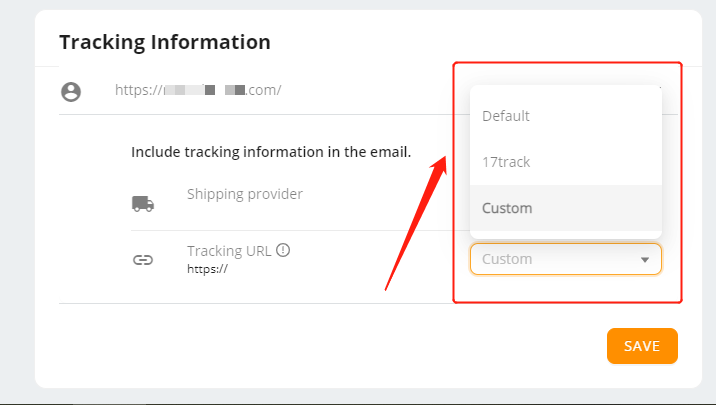 We provide the option to track with 17track, which is the all-in-one tracking platform that can track all the major shipping providers.
Or you can use your own tracking service by selecting Custom.
DSers also lets you choose a custom provider.
In that case, you can input the name of your provider the way you want and include 17track URL or custom tracking URL in the email.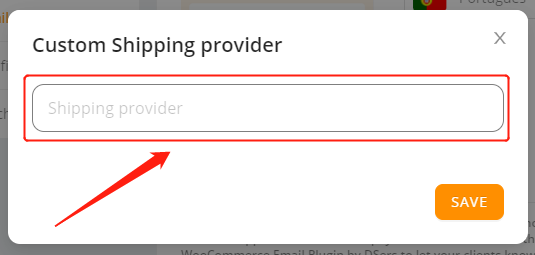 Now you can turn on the feature, the tracking information you set just now will be included in your e-mail.
Don't forget to save when you are all done!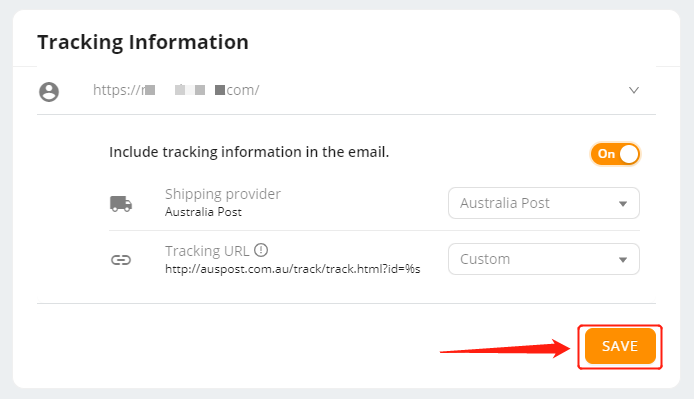 💡 TIP: DSers will automatically send an email to your customer with tracking information included when all the products of an order are fulfilled
Display
Here is an example of the email your customer will receive.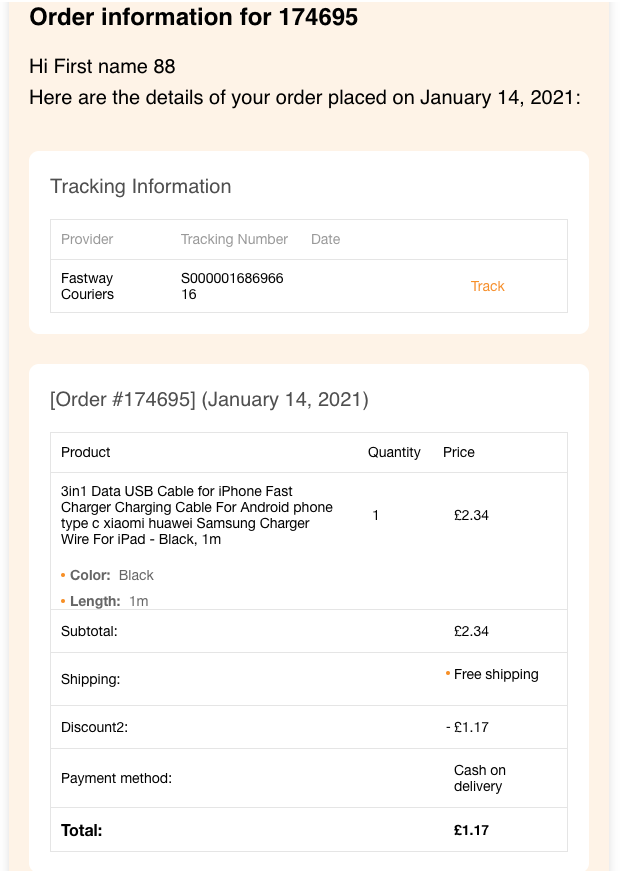 Shipment Tracking Extension (Paid)
The Shipment Tracking extension is a third-party extension (not owned by DSers) on WooCommerce that allows users to update tracking numbers, which in turn helps users to send emails with tracking information.
There are 2 main differences between DSers' Email feature and this extension.
The first is that you can manually send shipping information emails to your customers after the tracking number is updated to WooCommerce with this extension.
The second difference is that this extension allows you to change the tracking number on WooCommerce.
However, it comes with a cost of $49 a year.
We are currently developing more features to make the tracking function on DSers more powerful so that in the future you don't have to pay $49 a year.
Installation
You will need to buy and install the Shipment Tracking extension to your WooCommerce store.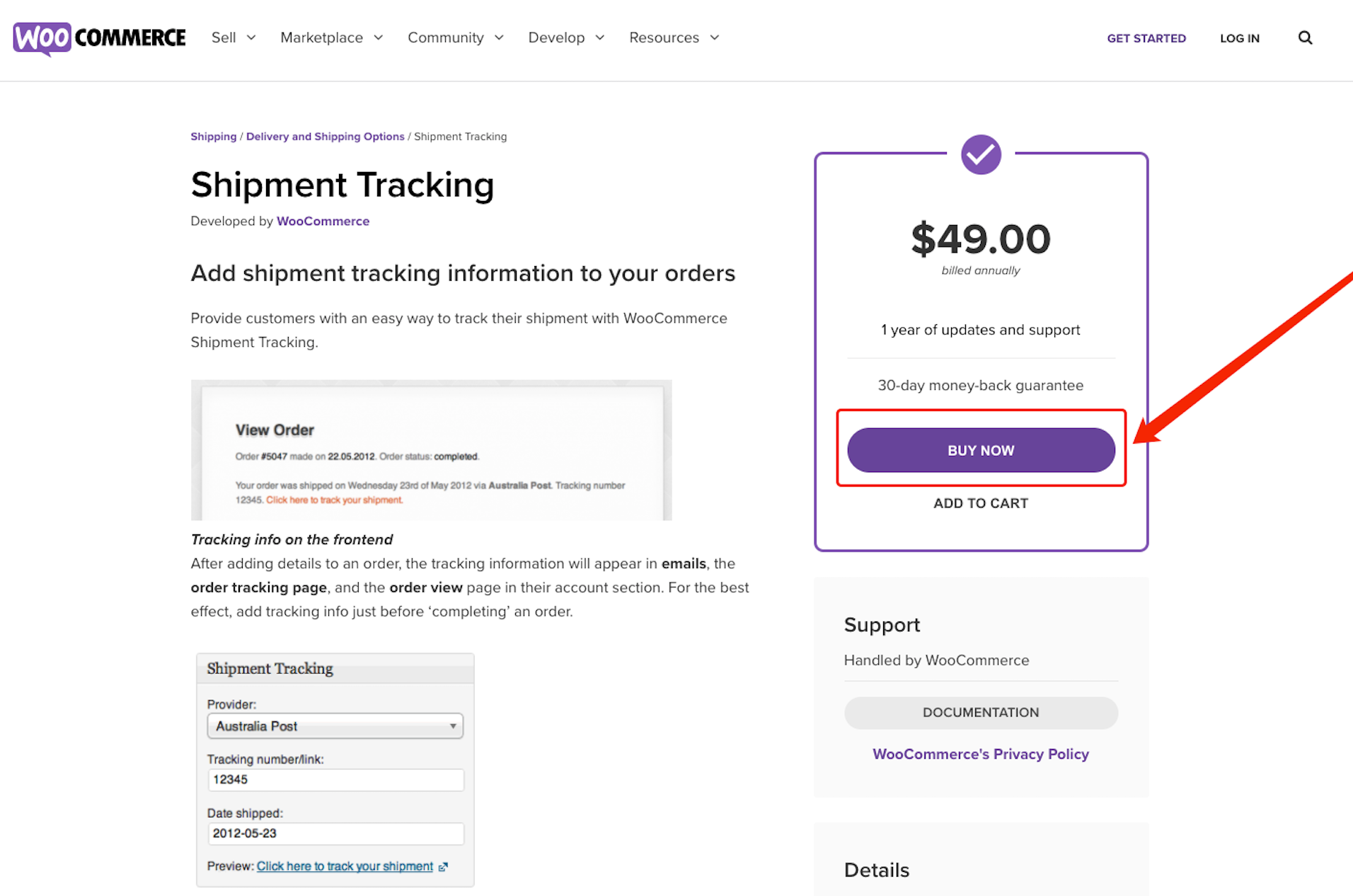 You can find it in the official WooCommerce Extensions, in the Shipping – Delivery and Shipping Options.
Or at the following link:
https://woocommerce.com/products/shipment-tracking/
Once installed, and after you have linked your WooCommerce store to DSers, DSers will be able to sync the tracking number from AliExpress to DSers, then from DSers to WooCommerce.
Display
It will add a new kind of widget on the top right side of the order detail page.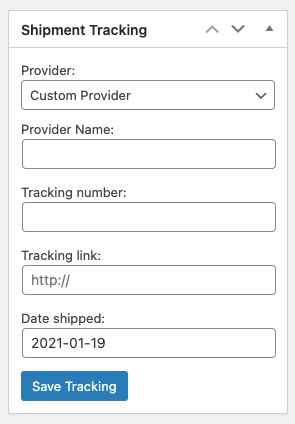 You can edit the information in this widget either on WooCommerce or on DSers – Setting – Email – "Tracking Information".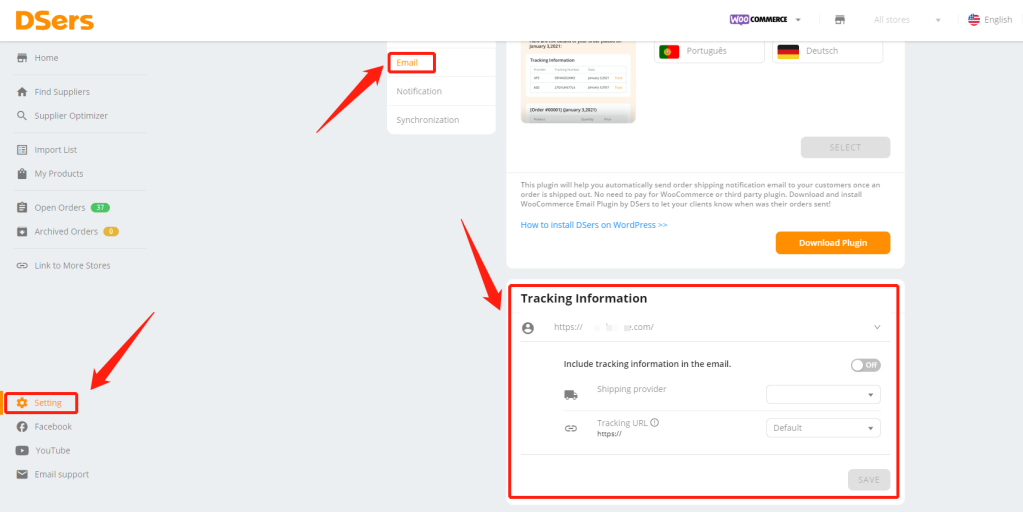 You can see an example below.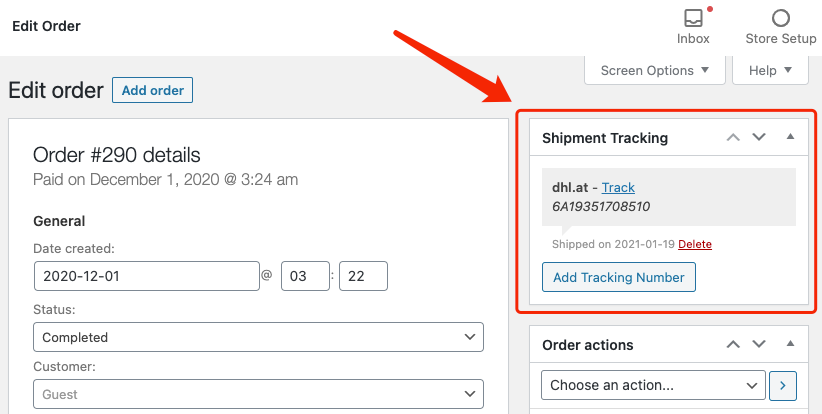 💡 TIP: If you have both plugins installed on your store, there will be two tracking emails triggered when an order is fulfilled
Therefore, we advise you to only install one of them to send tracking information to your customers.
Order Notes
DSers can synchronize the tracking number to Order Notes. To activate this feature, please go to DSers – Setting – Synchronization and click the button below to activate. Then DSers will automatically sync the tracking number to Order notes.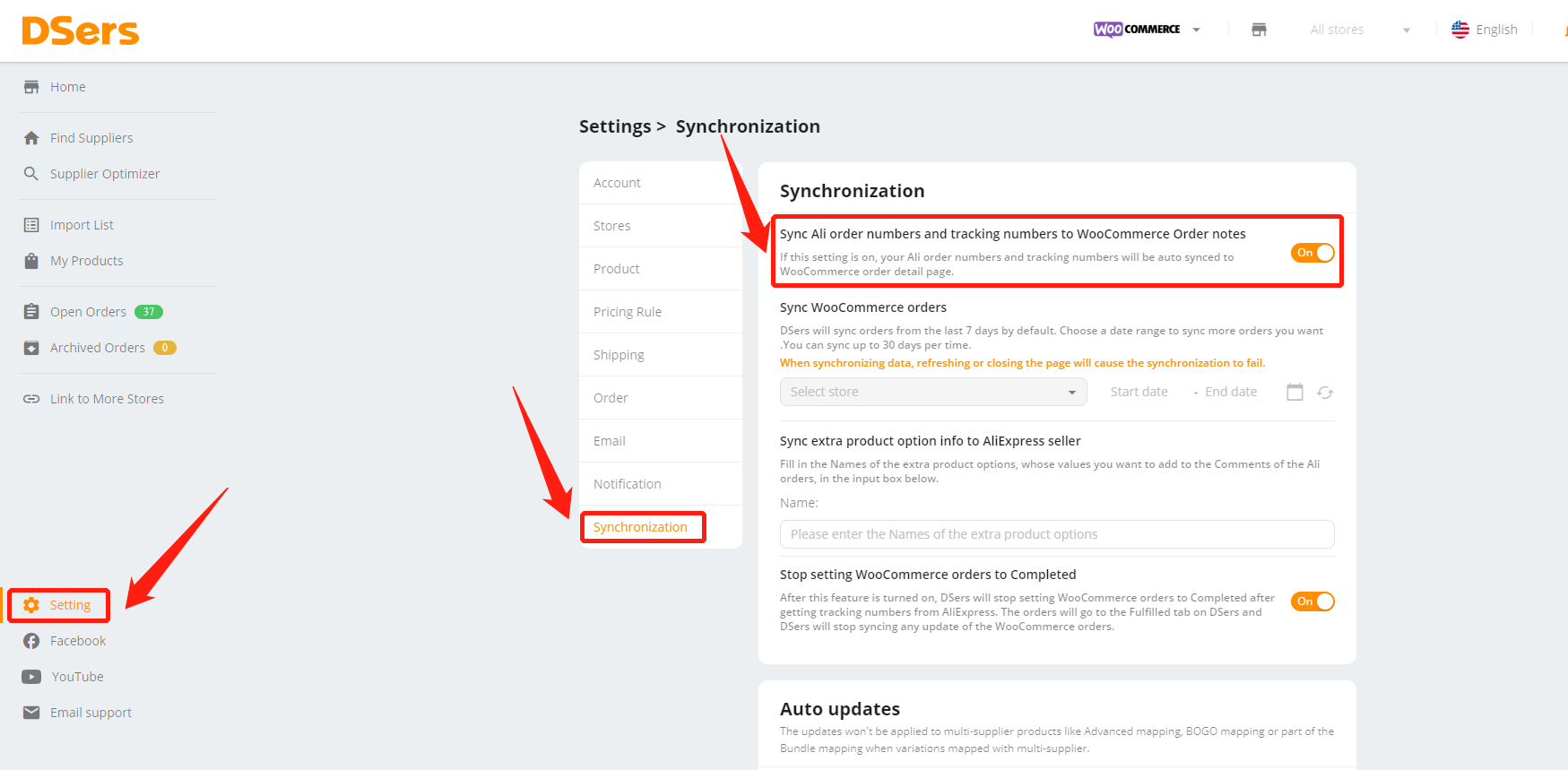 Here is an example. You can access it from the Order Details page on WooCommerce.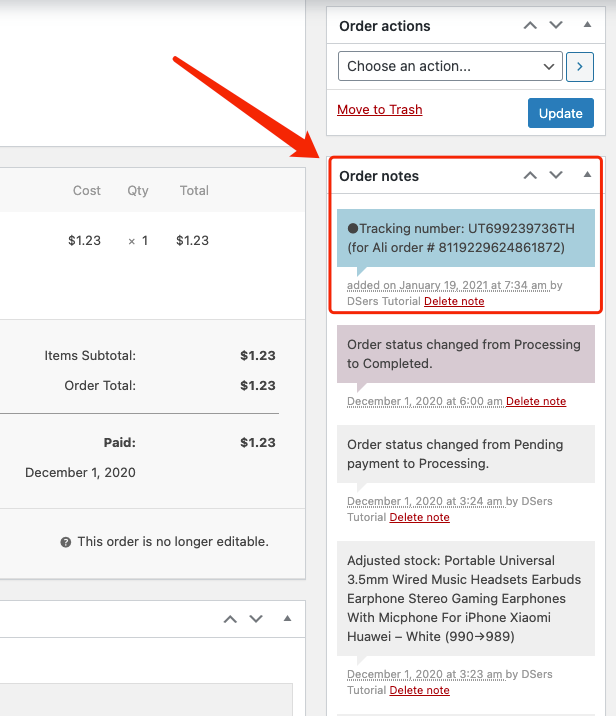 The tracking number is a key element to help you serve your customers better, hopefully this will help!